Google just announced a new core update to their search algorithm. In June, 2022 Google made another substantial improvements to the overall search ranking processes. Google often refer to this type of update as a "core update" increasing perceived value to the end user for overall relevance of search engine results. The goal is to make them more helpful and useful end users.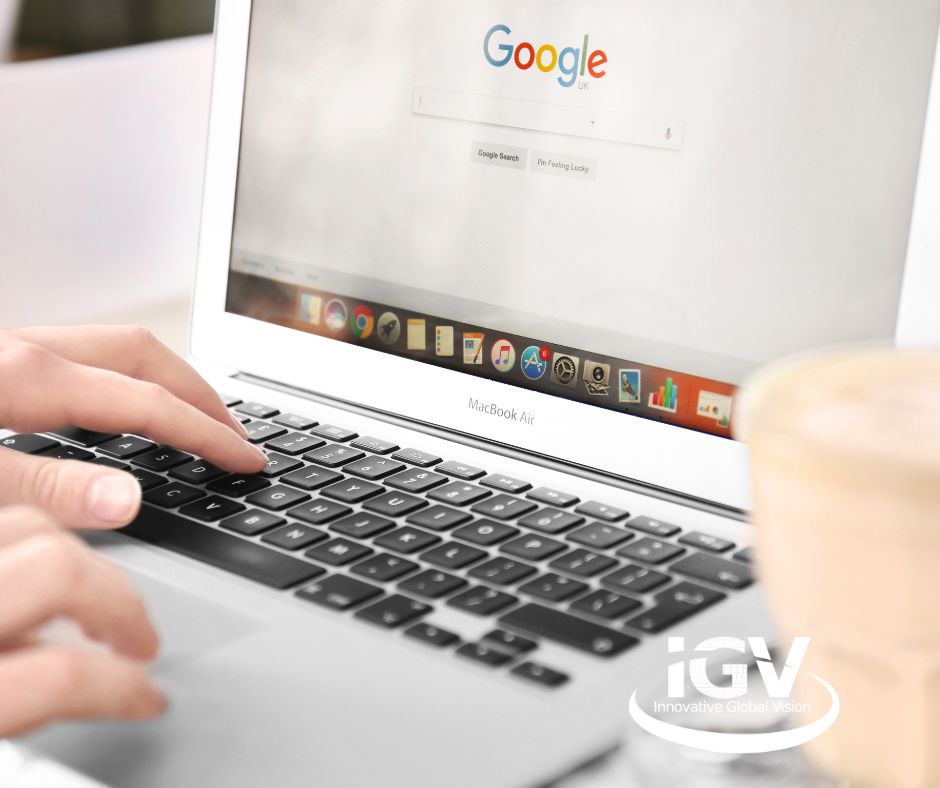 What should web developers and business owners expect from this core update?
Google tends to self right the wrongs. In this update it was considered to be more of a refresh and focused on highlighting products and services offered online. Companies that had websites for ecommerce might have gotten a boost from this update. In addition the ecommerce boost, website content again took center stage.
Content is a leading generator for organic search and those companies who are investing in content creation are taking a boost in results. Content is not limited to text alone, video content also got a boost in the latest update.
Video SEO
Video is a big part of many companies content and marketing strategy. Marketing video to search engines has been tricky in the past. Google has extensive documentation on how they want videos presented in order to rank in the organic search. teams and was a well-received session. For those looking to make the most out of their video content, Google has already set the path for that, but in addition to following the guidelines accessibility is also a factor in ranking. In 2022 if you are using a video for marketing purposes it should have captions in addition to sound to make them more accessible to all people.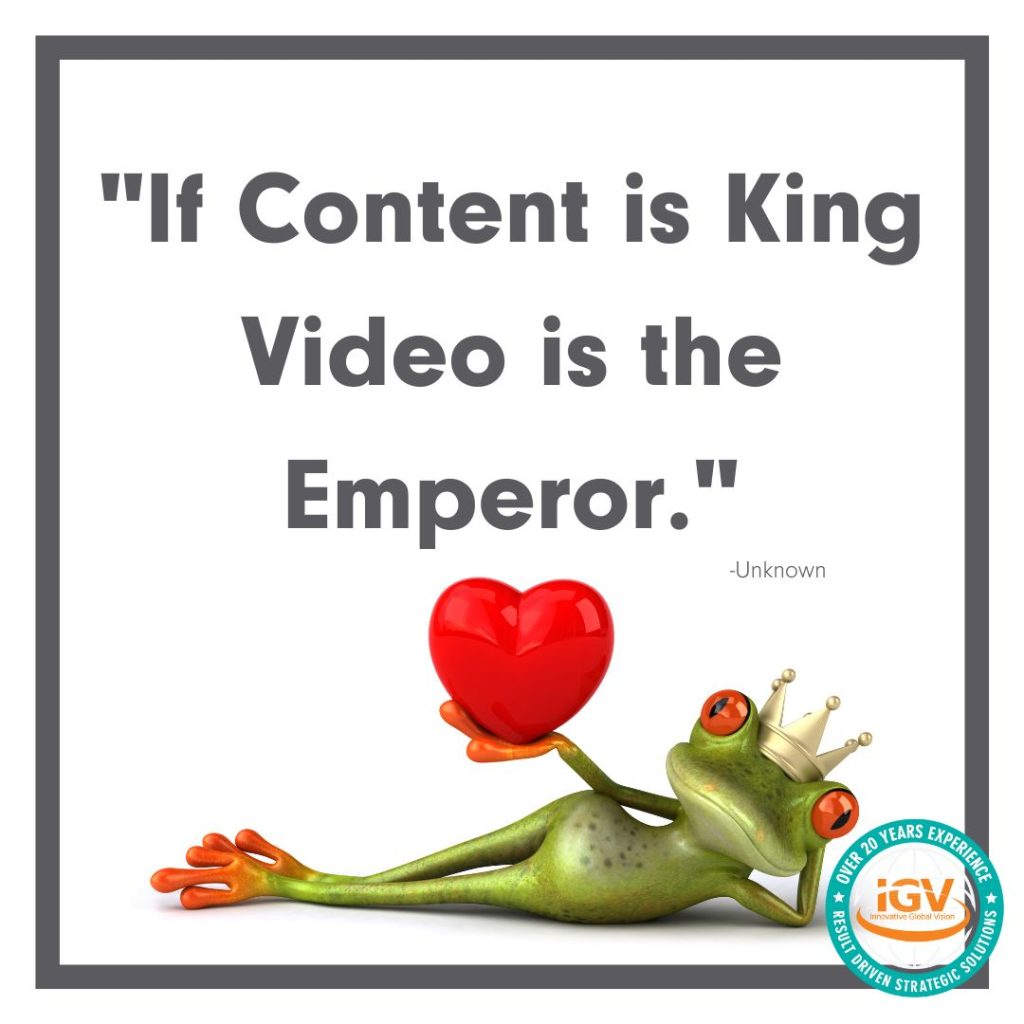 Updates to Schema
Schema is also a contributing factor to SEO. In addition to labeling your website pages with the appropriate schema designation, you can also add schema to video. Google has provided their best practices for adding video HERE.
Ecommerce and SEO
Ecommerce is another area where organic search is important. Competition is fierce for product marketing and having a good roadmap for developing your online catalog is vital. It can be a challenging to with the large amount of product pages to index them correctly and to remember the indexing best practices over time.
Here is what Google is looking for in a product review:
Include helpful in-depth details, like the benefits or drawbacks of a certain item, specifics on how a product performs or how the product differs from previous versions
Come from people who have actually used the products, and show what the product is physically like or how it's used
Include unique information beyond what the manufacturer provides — like visuals, audio or links to other content detailing the reviewer's experience
Cover comparable products, or explain what sets a product apart from its competitors
What is the Take-Away?
Google will continue to change. What works today for your marketing efforts may not work the same way tomorrow. The big thing Google is known for doing is rewarding companies for doing things the right way, and for the right reasons.
Your website should not be a static brochure that you build and then forget about. To really have organic reach with your website you need to create great content both with words and in video. You also need to make sure that if you are an ecommerce site, you are getting product reviews on your different product pages.
Bottom line. When you invest in your content, you always win.
Do you need us to take a look at your website? Contact us today to get started!
MORE READING: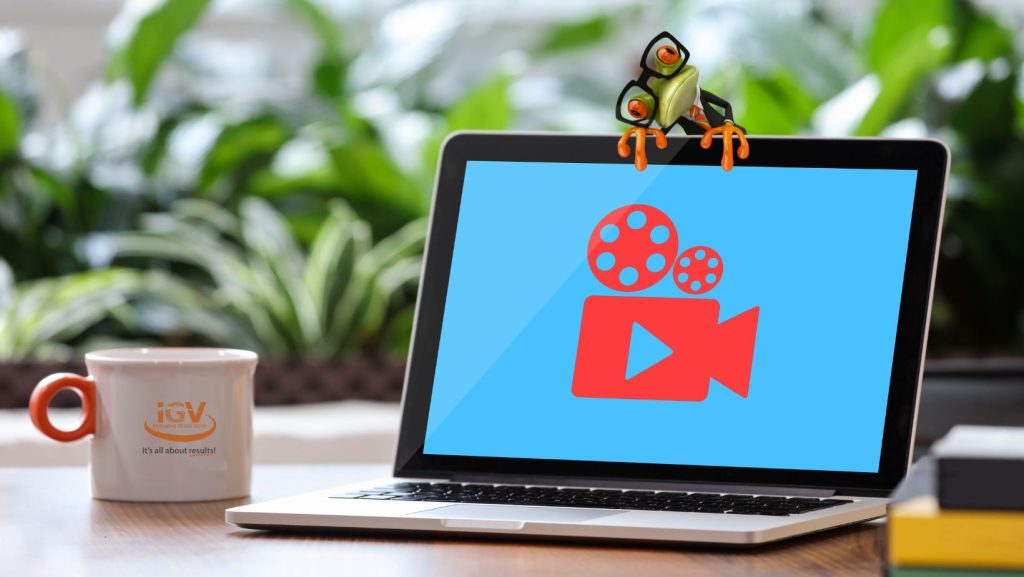 Online Video Streaming is Changing the Industry
Best Practices for Videos Online are really important today. It's no secret that the last two years have changed our lives.  What many have not realized is how our media consumption habits have changed. As audiences change, so must the industry. One of the most evolved industries is in video marketing.
In the last two years, online video watch time has increased by 34%, while traditional TV watch time has fallen by 5%. This may be unsettling for the television industry, but not for marketers. Video marketing allows us to reach more targeted audiences, increasing ROI– for less.
Take it from Google, everyone's favorite search engine and the figurehead of the internet.
Google's 'ABCD's' of Video Marketing– Best Practices:
These days, video creation can be daunting. Pushing your content to the forefront of the audience's minds is especially difficult. Google's 'ABCD's' of video marketing' will make sure your video gets the watch-time it deserves.
Attract:
Before the boom of online content, video creators used the "start-high" strategy.
Familiar faces and unique creative styles are sure to draw attention to your video and
Brand:
Consider your marketing objectives. This will determine when it will be best to introduce your brand to the viewer. If you are looking for ad recall? Your brand should be identified immediately and repeated often throughout your video.
Keep in mind that videos with this goal in mind tend to be more short-form, lasting only a few seconds.
Let's say your goal is audience consideration. Google suggests letting the audience engage with your video before introducing your brand.
Unlike ad recall, ads with the goal of audience consideration have a much longer duration. These videos tend to resonate with the audience on a deeper level. This extra time makes them more likely to take action after viewing your ad.
Connect with your audience: 
Don't be afraid to experiment with humor or emotion. These help the audience connect with your content on a personal level.
Break the fourth wall, acknowledge the audience. Resonating with the audience on a personal level helps them to remember your message.
Google also stresses the importance of audio and video together. Videos are best received when they are both seen and heard.
Use short-form when completion is the goal.
Short-form video works well on non-skippable platforms. These videos are anywhere from 15 seconds to 1 minute in length. Think Hulu or Peacock, for example. These streaming giants use short commercial breaks engage and advertise for their sponsors.
This type of ad will inspire audiences to direct their attention from your ad and to your website to learn more.
Short-Form video platforms have gained massive popularity over the years. You might find success on TikTok if you feel that short-form is right for you.
Use Long-Form to emphasize story and entertainment.
We all know that creators must earn their audience's attention. The challenge for long-form video, or videos with a duration of over 5 minutes, is keeping it. This style has an emphasis on story and entertainment and causes fond remembrance.
This type of video works best when marketers are committed to data analysis.
Thanks to the prevalence of algorithms, much of the hard work is done for us. Remember that viewers are not willing to engage with content that doesn't interest them.
Google encourages us to "Think in Beta"– embrace the testing processes.
Remember that audiences are inundated with video. One arc is not enough to keep their attention. The "Heartbeat arc" is especially crucial in long-form video. This term describes an arc that employs bursts of excitement. Rather than one climax, it keeps the audience on their toes.
Choosing the Best Platform for Advertising Content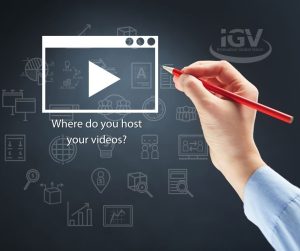 YouTube
YouTube is easily the most popular video platform offering free membership. It targets audiences using algorithms and matches your content with relevant channels. Also, if users allow, YouTube can show personalized ads based on internet history.
Content that lives on your YouTube channel is subject to advertisements as well. Your competition might get in front of your audience before you do. This could impact your reach, but not for the better.
Wistia
This is a lesser known, but revolutionary site built just for marketing. Wistia partners with several automated integrations to ensure no data goes uncovered. Users find that this is also helpful for time management.
Speed and video quality are paramount at Wistia. Beautiful video is not limited to your desktop. Wistia allows for transition from desktop to mobile, with no additional formatting needed.
Video lives on its own page with no distractions from your content. Wistia offers customizations to match the branding for your own site.
Vimeo
Like Wistia, Vimeo allows for video on it's own page and allows users to create a fully customizable home page. Vimeo refers to your homepage "like your own Netflix page".
Vimeo also allows users to record video with onboard recording software. And makes hosting virtual events easy for hosts and accessible for customers.
Accessibility Best Practices in Video
Accessibility is more important now than ever as online video becomes more and more popular.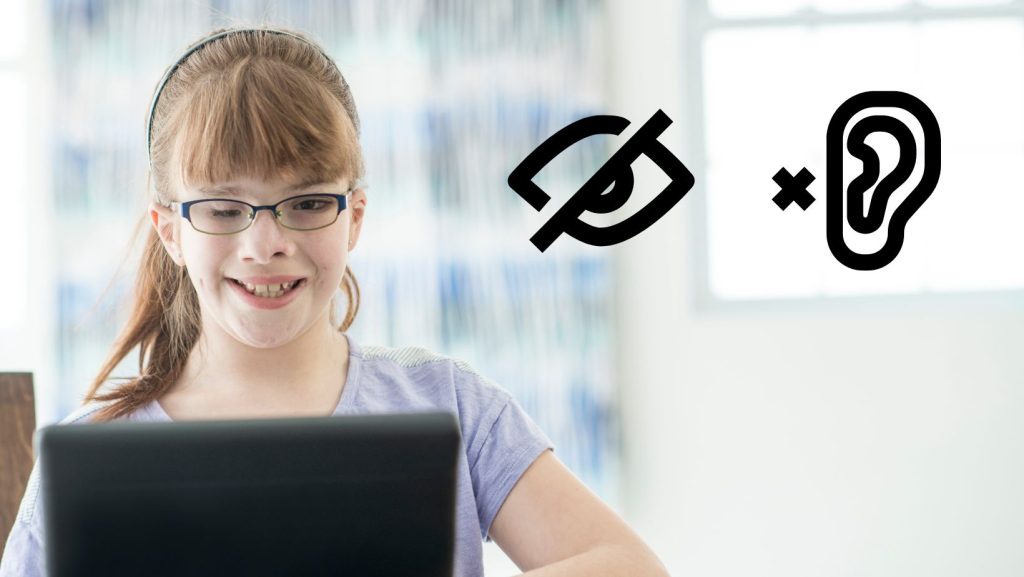 Up to 85% of video is watched without sound, decreasing the effectiveness of content greatly. This is one of the reasons why all three platforms have options to generate closed captions.
Studies show that not only do captions make video more comprehensible for those in the Deaf and hard-of-hearing communities, it also increases the chances that audiences will remember the content more clearly.
When it comes to video communication, posting can be rather overwhelming. But with these simple tips, you can take your content from good to great. Did we miss your favorite video platform? Let us know what your favorite is in the comments below.
Additional Reading:
How to Create Engaging Video Marketing Content
4 Reasons Why You Should Use Video in Your Marketing Strategy
TikTok as a Business Platform – Technology Trend 2022
What is Live Streaming? – Technology Trend 2022
Companies must do their absolute best to be ADA Compliant in 2022. In both physical locations and online, ADA compliance is the law. Let's look at the many reasons your company should adapt to be more inclusive.
Let's look at the many reasons your company should adapt to be more inclusive.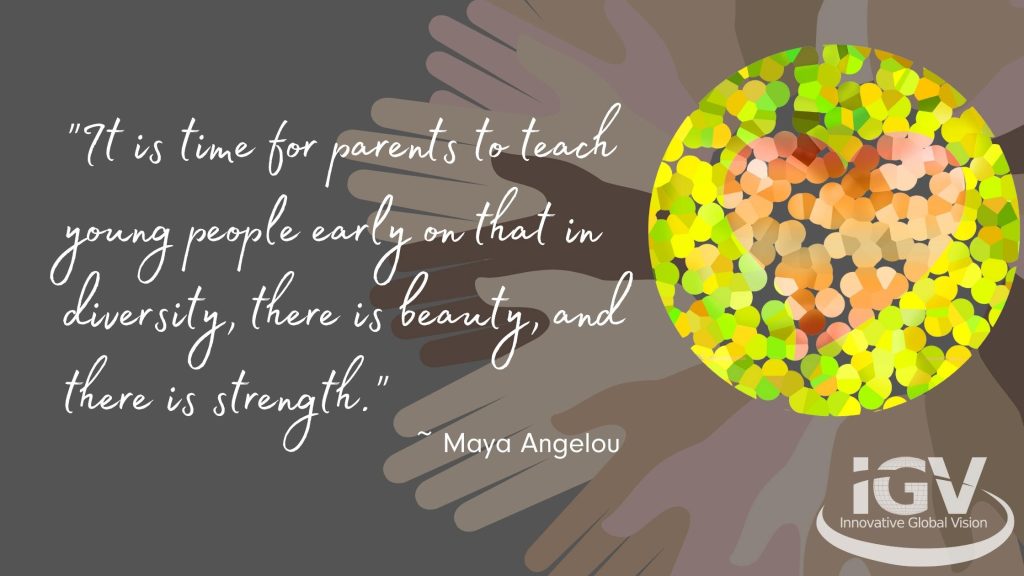 ADA Compliance The American Disabilities Act (ADA) was released by the Department of Justice released in 2010. Following the release, new standard requirements came for companies that have websites. Today, companies are expected to bring their websites up to code for people with disabilities so that their websites can be accessible for all users.
How Many People in the World Have Visual Impairments?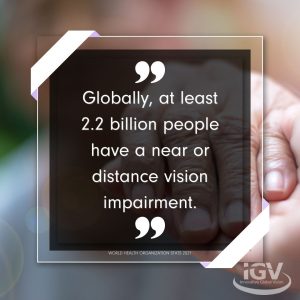 Here are the statistics found on World Health Organization (WHO) website. "Globally, at least 2.2 billion people have a near or distance vision impairment." Visual impairments the WHO breaks it down in the following ways.
Refractive error (88.4 million),
Cataract (94 million)
Glaucoma (7.7 million)
Corneal opacities (4.2 million)
Diabetic retinopathy (3.9 million)
Trachoma (2 million)
Near vision impairment caused by unaddressed presbyopia (826 million)
The WHO concluded that 1 billion people have moderate or severe distance vision or blindness. It is interesting to note, that they are not including color blindness in this scenario.
When it comes to digital platforms, color blindness is also be a consideration for color contrasts. According to the Colour Blind Awareness Organization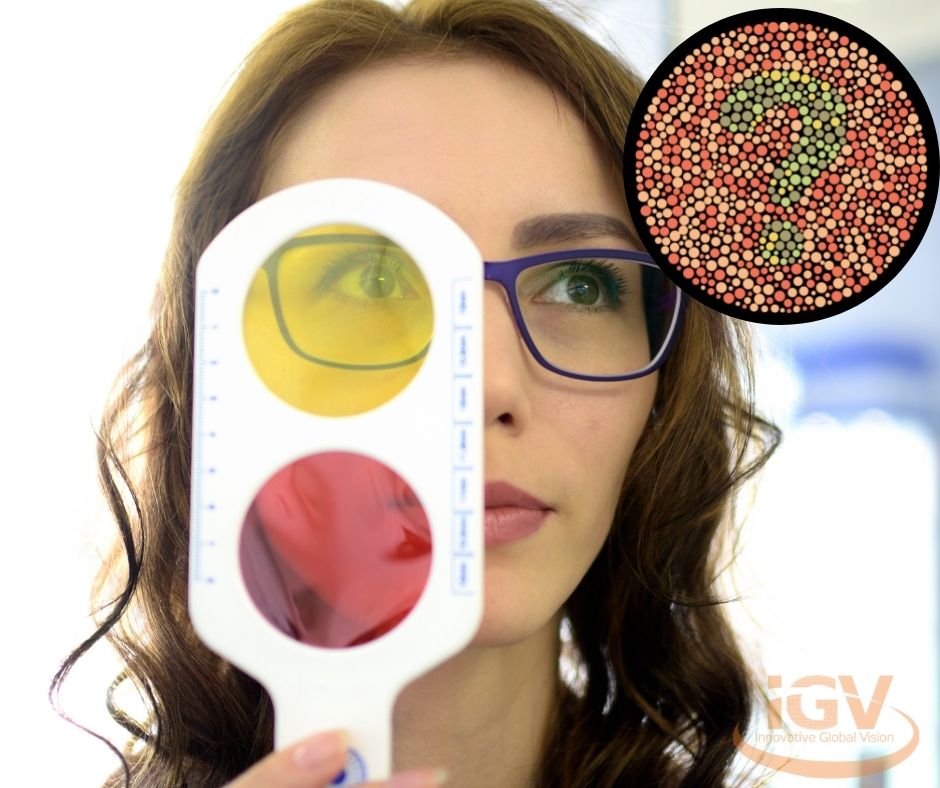 Color blindness (colour vision deficiency, or CVD) affects approximately 1 in 12 men (8%) and 1 in 200 women in the world. Worldwide, there are approximately 300 million people with colorblindness, almost the same number of people as the entire population of the USA!

https://www.colourblindawareness.org/colour-blindness/
Hearing Impairment Worldwide
According to WHO there are more than 1.5 billion people today living with hearing loss. That is almost 20% of the world population. Over 430 million humans have hearing loss that qualifies as "disabling hearing loss." By 2050 they predict that more than 700 million people could have disabled hearing loss.
Closed captions can play a big role in allowing those with hearing issues because impaired user will have more access to digital information. Everyone should make sure they are producing media that is inclusive for those with hearing loss.
Does Google rank your site better if you are ADA compliant?
Google has shifted their focus towards rewarding websites that provide good user experiences for all users. That includes ADA compliance. We know that Google is considering accessibility in their search rankings.
"Our UX Researchers work with people from all backgrounds and with a variety of abilities in order to understand what matters to our users in their daily lives. Based on these insights, we aim to design products that are inclusive and consider the needs of all users."

Google
Google launched a global initiative called "Google Impact Challenge: Disabilities." This program focuses on ways to program and use emerging technologies that increase independence and opportunities for people with disabilities.
What Laws Should You Consider in the United States for ADA Compliance :
Americans with Disabilities Act: Under the ADA, materials made available by public entities must be accessible. This includes state and local governments. The compliance also applies to places of public accommodation.
Rehabilitation Act: Applies to federal government entities ONLY. They now add captions to online videos. Section 508 applies to all electronic media.
21st Century Communications and Video Accessibility Act: Any content that airs on television must have closed captions. Both on the digital version used online.
Federal Communication Commission (FCC) regulated television on translating and captions for programming.
W3C Accessibility Guidelines (WCAG) is the world wide web consortium that develops standards for web: HTML, CSS and more.
The Department of Justice (DOJ) handles enforcing ADA compliance issues. They have been very clear on their stance. Websites that offer goods and services to consumers should aim to be ADA-compliant.
Conclusion:
Did you know that 1 in 4 people in the United States (about 61 million adults) are living with a disability? Today, designing your digital space with accessibility because it is smart business. It extends your reach to future customers. It is also the law. More companies are getting hit with complaints so it is important to try and be as compliant as you can to avoid potential lawsuits.
It is time to re-imagine your digital footprint including your website. No website is ever "finished." Your website is a living document designed to change over time.
At Innovative Global Vision aims to provide solutions for innovation and inclusion. This is a big initiative we have in 2022 and beyond for all our clients. Contact us today to see how we can help you bring your website closer to ADA compliance.
ADDITIONAL READING:
4 Ways to Improve Your Website Accessibility
Understanding the latest social media platform to hit our smartphones is the first step to expanding your reach.
What is TikTok?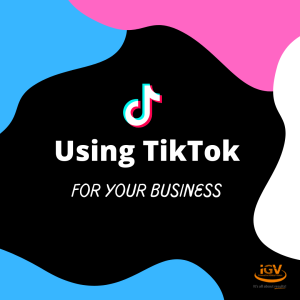 TikTok was born after an unsuccessful 8 year run as the digital platform Music.ly. The developers rebranded and relaunched the digital platform in 2017 as TikTok. The social media app for discovering, creating and sharing short video content. It has become one of the fastest growing social media platforms. TikTok now reaches over a billion users in less than four years.

The most viewed genres on TikTok include pranks, stunts, comedy, dance and entertainment. A unique characteristic of TikTok is the ability to reach an enormous audiencee. What makes TikTok so successful, is the algorithm with an accuracy more than those of platforms past.

According to TikTok's about page, each user has a personalized feed. Each feed is populated based on their interaction with content presented to them. The more a user interacts with their feed, the more it reflects each user's unique preferences. When a user skips a video or left with no interactions, it disappears from a user's page. There is then almost no almost no way to find it again.
The more interactions a video receives, the more likely it is that that video is boosted to the top of others' pages.
Is TikTok Right for My business?
TikTok could be right for you if your marketing content fits into any of the above categories.  If you are still not sure, consider the following:
Most of TikTok's Popularity Comes Courtesy of Gen-Z:
They make up the largest portion of the TikTok user base. The rest of the user base seems to follow suit with over 60% of users falling under the age of 49.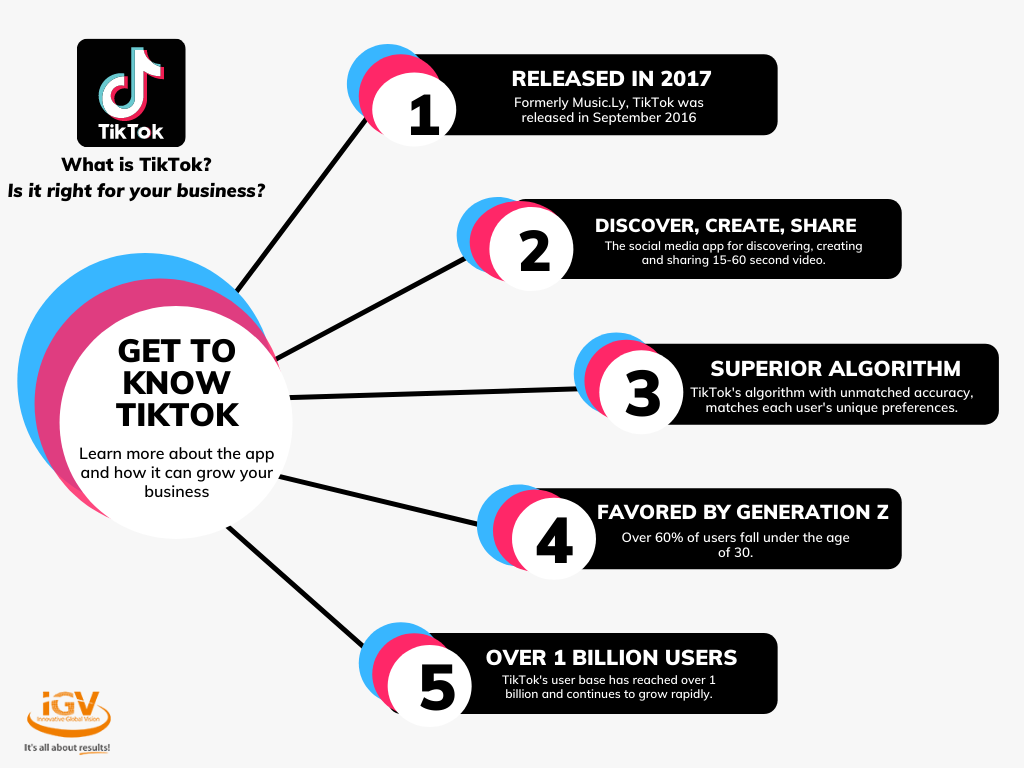 Names like Addison Rae and Charlie D'Amelio dominate the platform with their dance and entertainment content. Other content creators follow in their footsteps with the same content in the hope of growing their own following.
Your ideal demographic might not use TikTok as their primary form of social media.
Consider using an alternative social media platform.
Not All Social Media Platforms are Created Equal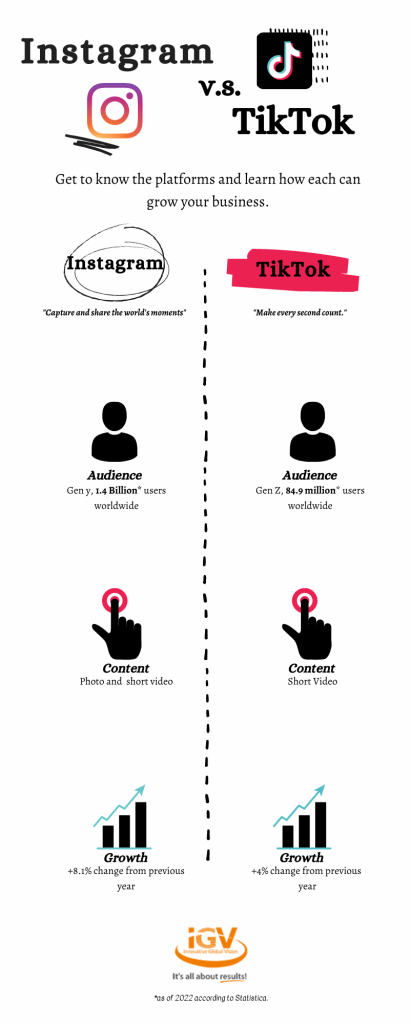 Instagram, TikTok's biggest competitor, has a statistically older user base and a more diverse range of popular content. Where TikTok is a more video-forward platform, Instagram is a photo sharing app.
Like TikTok, Instagram becomes familiar with user interests. It can then place advertisements into user feeds. Facebook works similarly, with a more mature audience.
Something that might not be considered is the amount of information that each platform allows its users to publish on their profiles.
Facebook allows their users to publish the most information. Things like business hours, phone numbers, website links, event calendars and chat features make it easy for potential customers to reach your business. Instagram has similar features, but the choices are fewer than TikTok.
More mature social media users tend to appreciate the fact that they can gather almost all the information they need to know about your business in their first glance at your page.
This information is not as readily available when using TikTok. Users are limited to a few characters on their profile. This makes it especially difficult to communicate information to potential customers.
Takeaways
TikTok provides users with a platform to reach large audiences, fast. With a remarkably young user base, the most successful content on the app tends to fit neatly under the entertainment category.
Social media is a useful tool for businesses to reach potential customers. Without social media, businesses wouldn't have the ability to reach so many new potential customers. Not all social media platforms are created equal. What works for Addison Rae, might not be the perfect fit for you.
What are your thoughts about TikTok as a business platform? Let us know. CONTACT US today
Written By Olivia O.
ADDITIONAL READING:
How To Find Infuencers for Your Brand
The Importance of Micro Influencers in Digital Marketing
Through our Content Marketing Course, we will be giving you the same building blocks we use for our own strategic marketing at Innovative Global Vision. We outline each step of the content development process. You will learn to think about content like the search engines. The results are tangible, long-lasting marketing pieces you can leverage with all your content marketing needs.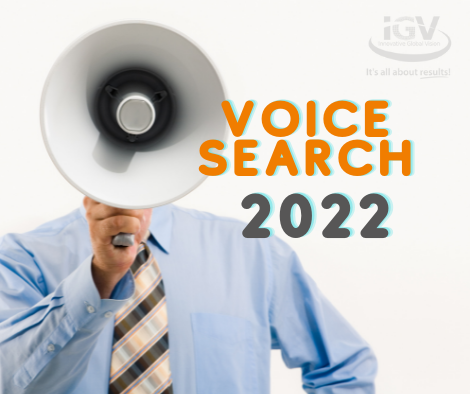 Voice search is not a brand-new technology for 2022. Yet, more people are utilizing their smart devices to help them find what they are looking for than ever before. Virtual assistants, provide the capability to perform voice searches on smart devices.  
When it comes to online shopping would it surprise you to know that half of all online shopping will use voice search this year? We expect that number to grow as people become more comfortable with using it. 
What makes Voice Search different from a Keyword Search?
In 2022, People no longer go to the yellow pages to lookup a phone number. That is also true for people trying to find products or service. More people are asking their smart devices to help them find what they are looking for. The key is that voice search users are asking questions or searching a phrase not a specific keyword. 
For instance, you do not ask your phone for "chocolate."  You might ask something like "How many calories in Chocolate." Or "What is the best rated chocolate company." People may also as for a type of chocolate or brand of chocolate.  
Voice search is a wonderful way to reach your target audience. The key is creating content that people are searching for. Notably, you want to be the solution the problem that someone has. As we enter 2022 more users are getting comfortable with voice search. We have the technology to get the answers we are looking for in the palm of our hands. Smart devices to find solutions to the everyday problems people have
Here are some examples of ways your company can utilize with voice searches. 
AMAZON ALEXA
Did you know that Alexa is one of the largest smart device providers in the world and owned by Amazon? Today, people use Alexa to control everything from their light switches and thermostats. Not only can Alexa can play music, it can access smart TVs, and provide valuable resources to users. People can search for anything from the comfort of their office or living room.  
Businesses are setting up a business listing on Alexa and providing valuable product and service information. There is nothing more valuable than being found for the right things when people are looking. Voice searches, like those offered through Alexa are becoming even more relevant today. We expect that trend to continue through 2022 and beyond.  
Set up your Alexa Business Listing HERE.  
When it comes to voice search Google is one of the leaders of the pack. Not to be outdone by Alexa, Google utilizes the power of search with smart home technology. Google smart devices bring the power of the Google to smart devices everywhere. Google Assistant is supported on more than 50,000 smart home devices.  
In 2022, Google Assistant is one of the most used virtual assistants according to 2021 stats. The latest information from Google Support reveals that it is compatible with more than 10,000 popular brands. That compatibility number is increasing by the day.   
In fact it was recently announced that Google will support the voice search capabilities of many other manufacturers smart home products. Save this great article by the Wall Street Journal for further reading.
Apple technology running on iOS operating systems utilizes Suri for voice search results.  Like Google and Alexa, Suri is used to find what people are looking for with voice commands on any of their Apple smart devices.  
"Around 500 million people are using Siri. Despite a few drawbacks, such as the limited voice application or voice control Siri has, Siri remains one of the most popular voice assistants worldwide, alongside Google Assistant." ("Voice Search Statistics: Smart Speakers, Voice Assistants …") SERP Watch IO  
Unlike Google, Siri requires that the user connect to an Apple product. Users must have the Apple operating system. 
Like Apple's Siri, Cortana is the voice operated assistant on the Windows operating platform. While Cortana is the least used Voice Search platform it should not be overlooked in 2022. Still, many business users utilize Microsoft Products for work. 
Learn more about Cortana HERE.  
Why is Voice Search
So Important in 2022
It is estimated that one-third of the U.S. population used a voice search at least monthly last year. Beyond the U.S. borders, 27% of the global population is using voice search. Impressively,  62% of people will make purchases through voice search in the next month.  These impressive numbers will only continue to grow as more of us are multitasking at work, in the car and at home. When you are developing content for your website do not just focus your attention on keywords. Instead, try  catering your digital marketing efforts to phrases we use every day. 
Key Takeaways
from Voice Search
Make sure you identify products and services your company provides. 

 

Use defined keywords and phrases 

 

Always consider writing phrases using natural speech

 

Solve problems for your customers with the answers they are looking for. 

 

Stop thinking about AI as a robot and more like your perfect customer. 

 

Incorporate voice search into your digital marketing strategy  

 
Need more help with ideas on implementing Voice Search into your marketing strategy? Contact us 
FURTHER READING ON HOT TECHNOLOGY TRENDS FOR 2022
Content Marketing -Hot Technology Trends 2022
Artificial Intelligence – Hot Technology Trends 2022
Hybrid Events – Hot Technology Trends 2022