The USA has seen an uptick in "live streaming" as a response to COVID 19. Businesses continue to change strategy during the pandemic to reach more customers. Understandably, live streaming gained significant traction as in-person shopping was restricted. Now that consumers are adapting to this type of content, how can businesses best use it to convert sales?
What is Live Streaming? Should I be using it as part of my digital marketing strategy?
Live streaming allows users to watch, create and share videos in real time. Think of it live broadcasts on TV or radio shows recorded in real time. To create a livestream you need the internet, a smart device, and a digital platform stream on.
We Also Recommend You Have the Following:
A good internet connection
Camera
Microphone
Tripod
Good lighting
A script or plan
Free Platforms You Can Use for Live Streaming
Now that you have a plan, where do you choose to do a live streaming event? Some of the current popular live streaming apps include Facebook Live, Instagram Live stories, YouTube, Vimeo, Twitch TV and Tik Tok. While these social media platforms are free, users typically need an account to access and use the livestream features.
Retail and Streaming
Retailers are scrambling to make livestreaming both accessible to consumers and profitable. Brands are using livestreaming to demonstrate products, talk about service and promote specials. The key is finding a way to target the audience, so they know to watch live.
Ideas to get people to show up to Live Events
Schedule days and times to live stream regularly
Send out notice to customers ahead of time
Put live streaming events on your company calendar
Create live streaming events on LinkedIn, Facebook, and Community Calendars
"What you're starting to see more and more now, especially in the livestreaming space, is a proliferation of different executions of livestreaming."

Gartner analyst Ant Duffin told Adweek
Takeaways from Live Streaming for 2022
To make live streaming effective you need to have a solid plan. You also need the right equipment. Finally, you need to know you target audience. Not a single person wants to see you talk about yourself for 10 minutes while you wait to see if anyone joins you live. Besides, if you are showing them an up-close view of your nostrils, they will not stay "live" for long.
Do you need help understanding your livestreaming options? We are here for you, contact us to get started.
Additional Reading:

What is a Hybrid Event?
Technically speaking, a hybrid event is a meeting of people both virtually and in person. Today, people in business rely on the flexibility to host event in several diverse ways. In fact, often customers expect it. Technology over the last decade has made hosting events virtually much easier. So here is what you must know about hosting hybrid events in 2022 and beyond. 
Hybrid Events in 2022
Hybrid events are here to stay. As COVID-19 has taught us, sometimes it is easier to attend events in your pajamas, and sometimes you just must be there. As our world continues to move from completely virtual to live events, some people are noticing that they prefer the convenience of one or the other, so a hybrid format provides a terrific opportunity to reach a larger audience.  
What Are My Options for Hybrid Events?
Let us say that your company has never attempted to create a hybrid event. Where would you even start? Today, there are numerous platforms that give you the ability to add a virtual element to any hosted event, as long as you have Wi-Fi.  Did you know that 71.1% of event organizers say that connecting the in-person and virtual audience is their biggest challenge? 
Here are the three questions you need to ask before trying to create a virtual event:
Do you have access to reliable Wi-Fi?

 

Do you have the right equipment to accommodate a virtual audience?

 

Will you be able to interact with your virtual audience in a meaningful way?

 
If the answer to all these questions is "yes" you are on track to creating your first hybrid event. Now you just must decide it if you want to host the event privately or "live-stream" it to the world. 
Private Virtual Event Options
Zoom, is one of the leading free platforms designed for companies to host virtual events. Some of the notable features of Zoom include that ability to host up to 100 guest free. In addition, there are no limits to the number of meetings you can host. Zoom allows for sharing screens, one-on-one meetings, and chats between all participants and for individual participants to message each other.   Some of the downfalls of a free account on Zoom are that the meetings can only be 40 minutes in length for group meetings. One-on-one meetings on Zoom can last up to 30 hours without disruption.   To learn more about different Zoom plans for virtual events click here. 
TrueConf like Zoom allows for your business to have a free account for video conferencing. TrueConf Online Free Plan is a great option for those who want to communicate with colleagues, family, or friends with comfort and without any additional investments. 
Free Plan features for TrueConf: 
free one-on-one video calls

 

multipoint video conferences for up to 6 participants 

 

virtual meetings 

 

up to 2 presenters

 

25 attendees 

 

maximum meeting duration is 40 minutes

 

content sharing

 

slideshow capabilities

 

video conference recording

 

Instant messaging privately for participants and to the entire group

 
Learn more about plans and paid options for TrueConf here.
Live Streaming Event Options
Facebook Live is a great fit for businesses looking to reach more people with hybrid events. You can use the platform to live-stream anything from product demos to your hosted events. In fact,  Facebook allows the host to schedule the event ahead of time. Your followers on Facebook can comment and chat live. One of the interesting features is that Facebook allows the business to customize the audience or simply allow anyone to access your live-stream when you go live.  
Top Free Features on Facebook Live:
Unlimited viewer access

 

Broadcasts up to four hours

 

Advanced scheduling

 

Custom audiences

 

The Live-Stream is available after your event has ended

 

Users do not need an account to view your stream! 

 

Location tags
Learn more about Facebook Live here. 
YouTube Live, like Facebook Live, is a platform that allows for business to record a live event, demonstration, or presentation and host that event live and replay it on YouTube as a replay event. You can add content to the same channel your business may host other product demos or presentations and embed the feed into your website or embed a video for replay options on your website. 
Top Free Features for YouTube Live-Streaming:
Unlimited viewer access

 

Three stream quality options (normal latency, low-latency, ultra-low latency)

 

Added delay to stop potential bloopers from going live for the world to see.

 

Live questions from the audience

 

Private live streams (people can only access with the link)

 

Advanced scheduling

 

Live automatic captions

 

Location tags

 
Learn more about YouTube Live-Streaming here. 
The Rewards of Hosting Hybrid Events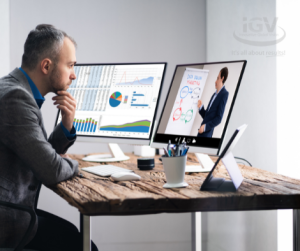 When done well, hosting hybrid events can be used as a key networking metric for business. In fact, 81% of organizers finding networking the top metric in measuring audience satisfaction. That is important considering that 89% measure a hybrid event's success by audience satisfaction. It is estimated that 47% of event organizers find hybrid events are great for geologically dispersed audiences. Today, hybrid events are not going to fade away, and the sooner your business adapts the better.  Flexibility maters and creating hybrid events means offering more options for consumers. 
Additionally, B2B counts success differently, with 94% of organizers counting success by the pipeline generated. An 43% prefer virtual events. Considering pandemic fatigue, where people just want to go somewhere else, combined with early issues faced by organizers, which have improved, these events will become more popular and better quality, especially with VR and AR technology. 
Need help with choosing a hosting platform for your next event Contact Us
FURTHER READING ON HOT TECHNOLOGY TRENDS FOR 2022 
Content Marketing – Hot Technology Trends 2022 
Artificial Intelligence – Hot Technology Trends 2022 
Voice Search – Hot Technology Trends for 2022