Understanding the latest social media platform to hit our smartphones is the first step to expanding your reach.
What is TikTok?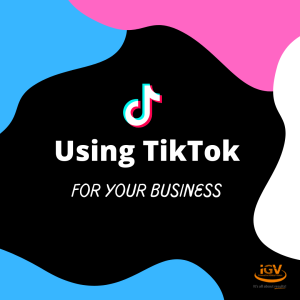 TikTok was born after an unsuccessful 8 year run as the digital platform Music.ly. The developers rebranded and relaunched the digital platform in 2017 as TikTok. The social media app for discovering, creating and sharing short video content. It has become one of the fastest growing social media platforms. TikTok now reaches over a billion users in less than four years.

The most viewed genres on TikTok include pranks, stunts, comedy, dance and entertainment. A unique characteristic of TikTok is the ability to reach an enormous audiencee. What makes TikTok so successful, is the algorithm with an accuracy more than those of platforms past.

According to TikTok's about page, each user has a personalized feed. Each feed is populated based on their interaction with content presented to them. The more a user interacts with their feed, the more it reflects each user's unique preferences. When a user skips a video or left with no interactions, it disappears from a user's page. There is then almost no almost no way to find it again.
The more interactions a video receives, the more likely it is that that video is boosted to the top of others' pages.
Is TikTok Right for My business?
TikTok could be right for you if your marketing content fits into any of the above categories.  If you are still not sure, consider the following:
Most of TikTok's Popularity Comes Courtesy of Gen-Z:
They make up the largest portion of the TikTok user base. The rest of the user base seems to follow suit with over 60% of users falling under the age of 49.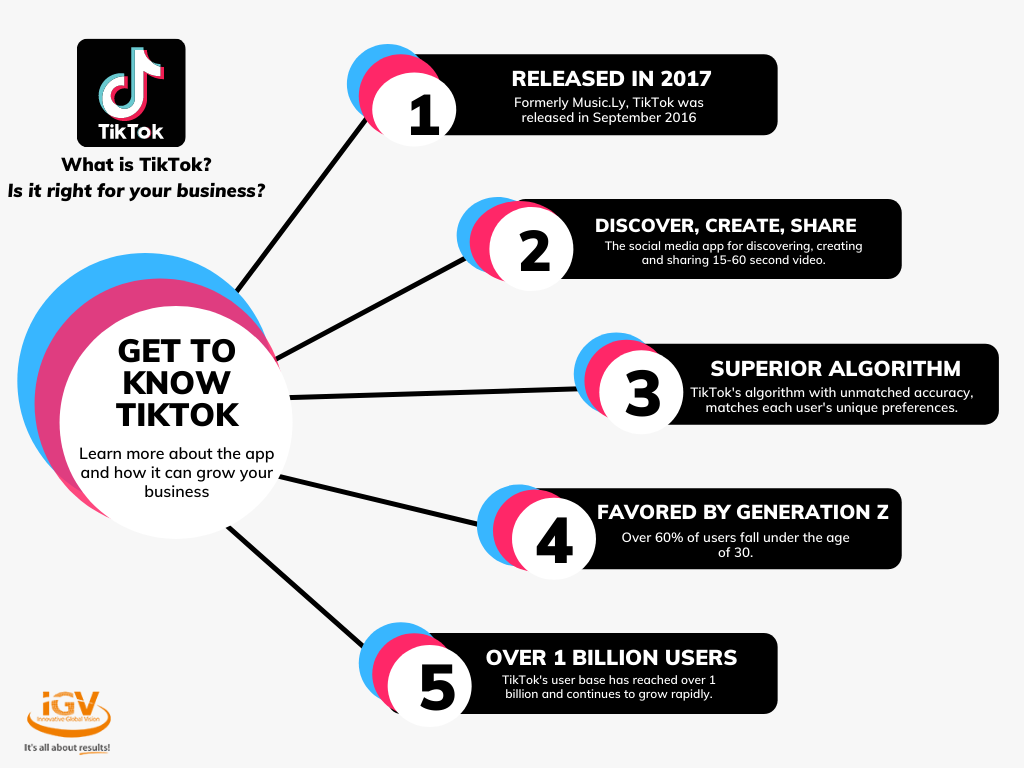 Names like Addison Rae and Charlie D'Amelio dominate the platform with their dance and entertainment content. Other content creators follow in their footsteps with the same content in the hope of growing their own following.
Your ideal demographic might not use TikTok as their primary form of social media.
Consider using an alternative social media platform.
Not All Social Media Platforms are Created Equal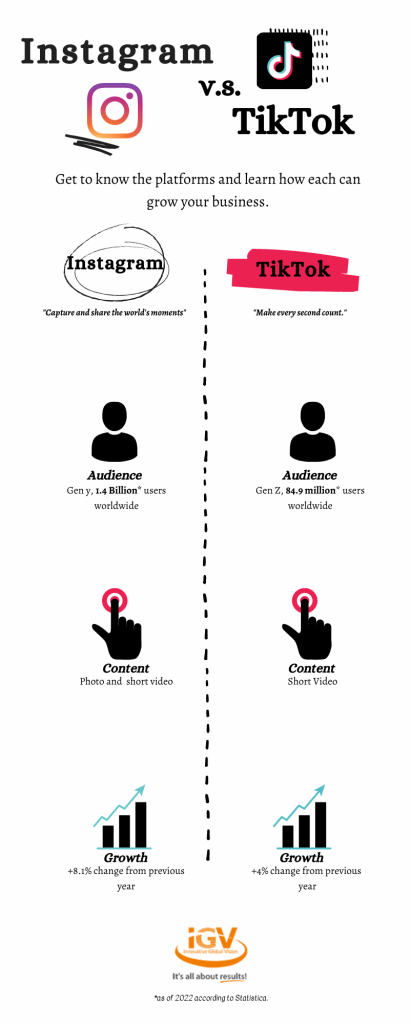 Instagram, TikTok's biggest competitor, has a statistically older user base and a more diverse range of popular content. Where TikTok is a more video-forward platform, Instagram is a photo sharing app.
Like TikTok, Instagram becomes familiar with user interests. It can then place advertisements into user feeds. Facebook works similarly, with a more mature audience.
Something that might not be considered is the amount of information that each platform allows its users to publish on their profiles.
Facebook allows their users to publish the most information. Things like business hours, phone numbers, website links, event calendars and chat features make it easy for potential customers to reach your business. Instagram has similar features, but the choices are fewer than TikTok.
More mature social media users tend to appreciate the fact that they can gather almost all the information they need to know about your business in their first glance at your page.
This information is not as readily available when using TikTok. Users are limited to a few characters on their profile. This makes it especially difficult to communicate information to potential customers.
Takeaways
TikTok provides users with a platform to reach large audiences, fast. With a remarkably young user base, the most successful content on the app tends to fit neatly under the entertainment category.
Social media is a useful tool for businesses to reach potential customers. Without social media, businesses wouldn't have the ability to reach so many new potential customers. Not all social media platforms are created equal. What works for Addison Rae, might not be the perfect fit for you.
What are your thoughts about TikTok as a business platform? Let us know. CONTACT US today
Written By Olivia O.
ADDITIONAL READING:
How To Find Infuencers for Your Brand
The Importance of Micro Influencers in Digital Marketing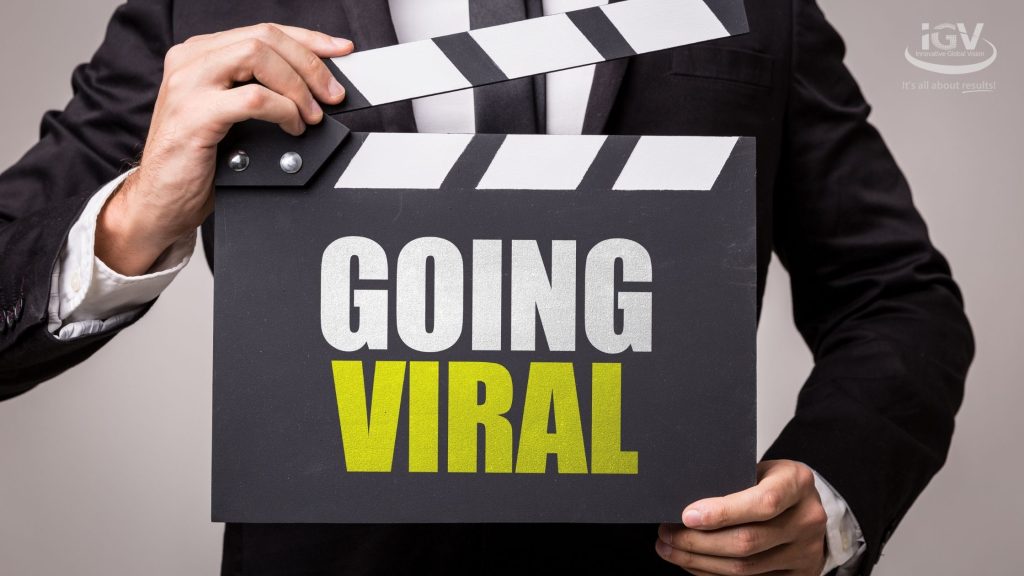 What does it mean to "go viral" anyway? Typically, a post that is viewed by thousands upon thousands of people in a very small amount of time. What topics make great viral posts? Posts about two-headed cats and maybe a good meme these days.
How Many Posts Go Viral?
The question many people ask is how often are posts going viral? The answer is only about 1 out of a million posts will go viral. According to a Stanford University Study.
Mass media or marketing efforts rely on what might be termed a "broadcast" mechanism, meaning simply that a large number of individuals can receive the information directly from the same source. As with viral events, broadcasts can be extremely large—the Superbowl attracts over 100 million viewers, while the front pages of the most popular news websites attract a similar number of daily visitors—and hence the mere observation that something is popular, or even that it became so rapidly, is not sufficient to establish that it spread in a manner that resembles social contagion.

Sharad Goel, Ashton Anderson Stanford University, Stanford, California
Statistically, if you posted a million posts, one might go "viral," but that doesn't mean that your content isn't just as important as posts that gain an instant following. Your marketing strategy should be posting content on your social media for several different reasons, "going viral" shouldn't be the ultimate measurement of success.
Example of a Marketing Campaign Viral Post.
Big business is great at creating digital marketing campaigns that go "viral" Let's look at Coca-Cola for an example. Brilliant marketing. Everything from the Polar Bears to the Coke cans with your name on them. the "Share a Coke" campaign in 2011 for instance earned 18 million impressions and site traffic increased almost 900%. Page likes on Facebook increased by 39%. We would say that was a great campaign.
The reality, Coca-Cola has very big pockets. They paid for every bit of that increase in social media traffic through good marketing campaigns, ads, and the vast reach available to them with a global brand. They don't expect to reach the viral post status with a singular piece of content, it is a collective strategy built around a campaign that made it work.
Learn from Coca-Cola. Strategy is a key part of successful campaigns. The "Share a Coke" campaign started in 2011 and is still an active campaign today. You can go to the Coca-Cola website right now and order your custom printed cans and bottles in 2022. More than a decade after this campaign began, it continues to produce brand awareness and sales.
Example of Influential Circles of Viral Posts.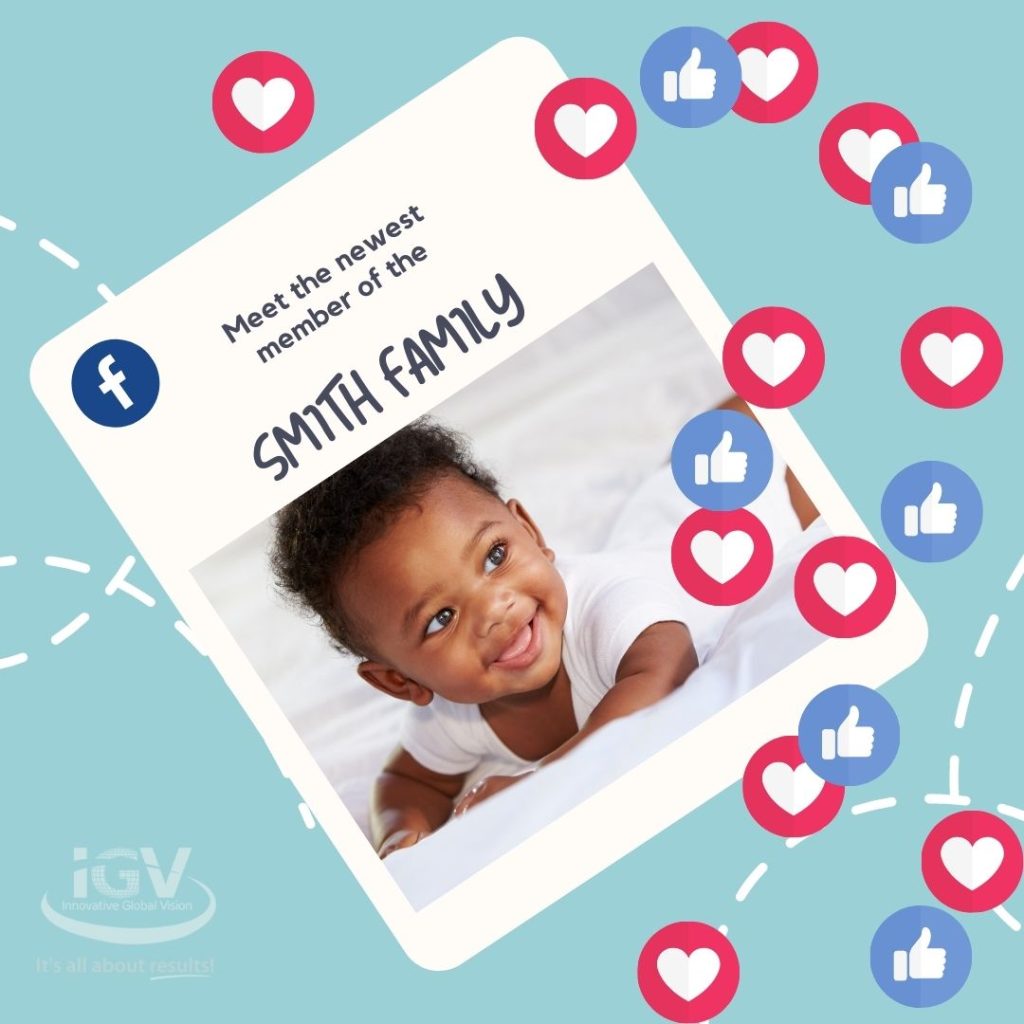 Sometime the whole world doesn't need to see your content. If you are a regional business and your goal is for a billion people to see your post, that isn't really a good goal. Sure it would be outstanding if that were to happen, but are they your customers? Are they your target audience?
Influential circles can help a post more than simply going viral.
Let's look at this example. The Smith family just welcomed a new baby. All their friends and family liked and comment on how cute the new bundle of joy is on Facebook. The algorithm for the facebook platform then makes sure that more people see the post in the news feed. Which leads even more friends of friends to see it, like it, and comment on the new baby. Soon, the Smith family's new bundle is the talk of their online circle.
That is however where that ends. Even the Smith's new bundle is not going to make national news for cuteness, but everyone in the Smith family circle can celebrate the good news.
Think about it this way, how many degrees of separation are going to gush about the Smith Families new bundle of joy? Probably not the Smith's fourth cousin twice removed in Alaska when it comes to liking and sharing a posts. That is OK. The people whom the post was relevant saw and liked the post.
Reach branches out only as far as the subject matter of the topic relates to circles outside of yours. That is why posts that go viral are typically funny videos of kids or cats falling off things, and not your business advertisement.
You Should Not Worry About Posts Going Viral.
Remember many of the posts that go "viral" are engineered to do so. They are part of a bigger digital marketing campaign that could include e-mail marketing, digital ads, and strategic paid influencers to spread campaigns across many social media platforms. The more people you can get to "like" or "comment" on signals a trend for the digital platforms' algorithms telling them the post is of some importance.
If you are a client a marketing firm guarantees they can create a viral video or post for you, hang up the phone immediately and delete the emails. Realistically no one can make promises like this. Some of it is luck, and some of it is carefully orchestrated brilliant marketing with big budgets and an already large social reach.
The most important thing you can do as a business is create great informative content that is relative to subjects that people are interested in. That is really the key to long term success. As an example, one of our clients is a service company. The service they provide is necessary, but there is a lot of competition.
How Can IGV Inc help you with your Content Marketing Strategy?
Through our approach to content marketing strategy we have in place has led to numerous articles we have written ranking very well on Google and cumulatively added tens of thousands of visitors to clients websites. It didn't have to go viral to be effective. It just had to be quality work with a purpose. You have to know how to target your clients and customers with content that is relevant to them.
Need help with Digital Marketing Content Strategy Contact Us today!
The USA has seen an uptick in "live streaming" as a response to COVID 19. Businesses continue to change strategy during the pandemic to reach more customers. Understandably, live streaming gained significant traction as in-person shopping was restricted. Now that consumers are adapting to this type of content, how can businesses best use it to convert sales?
What is Live Streaming? Should I be using it as part of my digital marketing strategy?
Live streaming allows users to watch, create and share videos in real time. Think of it live broadcasts on TV or radio shows recorded in real time. To create a livestream you need the internet, a smart device, and a digital platform stream on.
We Also Recommend You Have the Following:
A good internet connection
Camera
Microphone
Tripod
Good lighting
A script or plan
Free Platforms You Can Use for Live Streaming
Now that you have a plan, where do you choose to do a live streaming event? Some of the current popular live streaming apps include Facebook Live, Instagram Live stories, YouTube, Vimeo, Twitch TV and Tik Tok. While these social media platforms are free, users typically need an account to access and use the livestream features.
Retail and Streaming
Retailers are scrambling to make livestreaming both accessible to consumers and profitable. Brands are using livestreaming to demonstrate products, talk about service and promote specials. The key is finding a way to target the audience, so they know to watch live.
Ideas to get people to show up to Live Events
Schedule days and times to live stream regularly
Send out notice to customers ahead of time
Put live streaming events on your company calendar
Create live streaming events on LinkedIn, Facebook, and Community Calendars
"What you're starting to see more and more now, especially in the livestreaming space, is a proliferation of different executions of livestreaming."

Gartner analyst Ant Duffin told Adweek
Takeaways from Live Streaming for 2022
To make live streaming effective you need to have a solid plan. You also need the right equipment. Finally, you need to know you target audience. Not a single person wants to see you talk about yourself for 10 minutes while you wait to see if anyone joins you live. Besides, if you are showing them an up-close view of your nostrils, they will not stay "live" for long.
Do you need help understanding your livestreaming options? We are here for you, contact us to get started.
Additional Reading:

Twitter has over 300 million active monthly users and can be a great place to reach a large number of people. Twitter announced that advertising would be available back in 2010, but it wasn't until 2013 that the advertising was open to everyone. While Twitter advertising isn't as developed as Facebook or Google Ad Words there are still benefits to advertising on Twitter.
Pros
Narrow Segmentation
Twitter ads allow you to narrowly segment who your ad is shown to. You can narrow your audience by using keywords, common interests (Twitter has 350 interest categories to choose from), or you can even use your own CRM list to target even more precisely. You can also choose the objective of your Twitter ads, such as gaining more followers, website clicks or conversions, tweet engagements, app installs, or engagement leads. The best part is you only pay if someone performs the exact outcome that you want them to. For example, if you are trying to grow your followers, you will only pay if someone clicks the follow button on your promoted tweet.
Multiple Types of Ads
You also have several options for the type of ad you want to run. You can run a promoted tweet where you create a tweet that is pushed out onto timelines that match your target (similar to a Facebook ads). You can promote your account, which will show your account in timelines to encourage people to follow you. You can also run a promoted trend, which will show up on the left-hand side in the trending box. Keep in mind that promoted trends are very expensive, on average it costs around $200,000 per day to run a promoted trend. Twitter also allows you to choose where your ad shows up — it can be shown in search results, timelines, and on profiles.
Cons
Lagging in Analytics
There are some drawbacks to Twitter ads, the first of which is that the reporting may not be as vigorous as some other options like Facebook and Google. Twitter does provide you with analytics around your campaign, but it may not be as in-depth or user-friendly as some other platforms.
Easy to Be Missed
Since Twitter is a constant stream of information, your ad may be missed by someone who would be interested simply because it got lost in the clutter.
Hard to Prove ROI
It can also be hard to prove if someone actually purchased something because they saw and clicked on your ad, so it can be hard to get a correct ROI from your ads.
Overall, Twitter ads benefit small businesses by allowing them to specifically narrow and target the audience that the ad is shown to. You can also set the maximum amount your willing to spend on the entire campaign, the amount you're willing to pay per click, and daily maximums as well. While the platform does have disadvantages, it is possible to find success with Twitter ads. It's definitely worth a try to see if they will work for your business and audience.
In today's business world there are so many hot topics like social media and search engine optimization (SEO) that are constantly thrown around without people fully understanding what they are and how they work together. The purpose of this article is to define what exactly social media and SEO are, their relationship to each other and how they can help your business grow.
Social Media
The official Merriam-Webster definition of social media is: forms of electronic communication (as Web sites for social networking and microblogging) through which users create online communities to share information, ideas, personal messages, and other content (as videos). From a business perspective it is a channel that allows you to connect with your customers and followers on a more personal level. You can quickly communicate with your followers, share your expertise and show your business off to a community that is passionate about your brand.
Search Engine Optimization (SEO)
According to Search Engine Land, SEO is the process of getting traffic from the "free," "organic," "editorial" or "natural" search results on search engines. It involves optimizing your website with keywords in the content to help Google when it ranks your site. There are many elements that go into SEO such as content, social media, video, links and more. You want to make sure to avoid keyword stuffing (ie: placing large amounts of keywords throughout content even if the content does not make sense) Google will knock you for that and will lower your search ranking. SEO is a complex topic so more research may be needed to fully understand the topic.
Social Media & SEO Together
Social media and SEO have an important relationship together when it comes to search rankings. Google will look at your social posts and urls and information and consider the information there in the search rankings. You want to make sure that you fil out all of your company information on your social profiles to help with recognition and your rankings. The higher visibility your posts and pages receive will also help with your rankings so the more engagement your page receives the better your rankings will be. But an important thing to keep in mind is that you want quality followers over quantity. Buying large amounts of followers will not help your rankings and some social media sites will go through and occasionally delete out fake followers. You want to focus on building up a loyal following on social media who are genuinely interested in what you have to say. The biggest thing to keep in mind when it comes to social media is to be honest (aka no fake accounts or followers) and create quality content that your followers will want to share with others.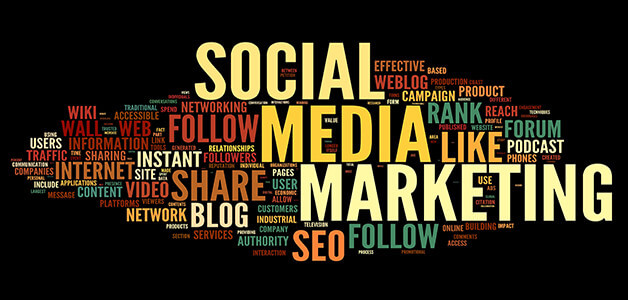 As a small business it may seem daunting to get onto social media. You may not know how to use social media or know what to post or you may just not have enough time to feel that you can really post effectively. With so much of marketing going online and consumers spending 28% of their time on social media sites it is crucial that you are on these platforms. While it can seem like a daunting task at first following these steps can give you a great foundation to build your social media platforms on.
Choose the site that is right for your business

You want to make sure that your consumers are actually on whichever social media platform you choose. It would be a waste to put all of your time and energy into Twitter when your consumers are actually on Linked-In. Pew Internet has a great demographic breakdown of each social media site and will help you choose the correct platform for your consumers.

Have Attainable Goals

You have to accept that you will not get tons of engagement the day after you make a Facebook page. It takes time to build your audience and to build engagement. It will take some time initially experimenting with different types of posts to see what your consumers are responding to. Your audience also won't explode overnight, consider sending out an email to your customer list stating that you're now on which ever social media site you chose. You can also place the social media icons on your website linking to your pages to encourage people to click-through to the social media site.

Monitor Social Media Analytics

You want to track what you are doing so you know if your efforts are working or not. This will also tell you what times of days to post and the types of posts your fans are engaging with. This information will allow you to perfect your posting schedule and provide the content that your fans want to see.
Most social media sites have free analytical tools within the site for business pages to monitor their performance

Schedule Your Posts Ahead of Time

One of the biggest hesitations that small business owners have with utilizing social media is time. By using a tool that allows you to schedule posts ahead of time you will be able to set your posts to go out when you want them to and then go on with your work because the software posts them for you. Taking a few hours to come up with and schedule the posts for a week, 2 weeks or even a month is much easier than trying to think of one each day. These tools allow you to post every day without having to actually post them yourself which will ultimately save you time.
Some free scheduling tools are: Hootsuite and Buffer
Don't be intimidated by social media as a small business owner! These platforms are a great way to reach your consumers and interact with them in a more personal manner. You can share helpful information, advertise sales and promotions and have conversations with the people who are buying your products. Start off slow and then once the ball is rolling watch your followers and hopefully your number of customers grow!