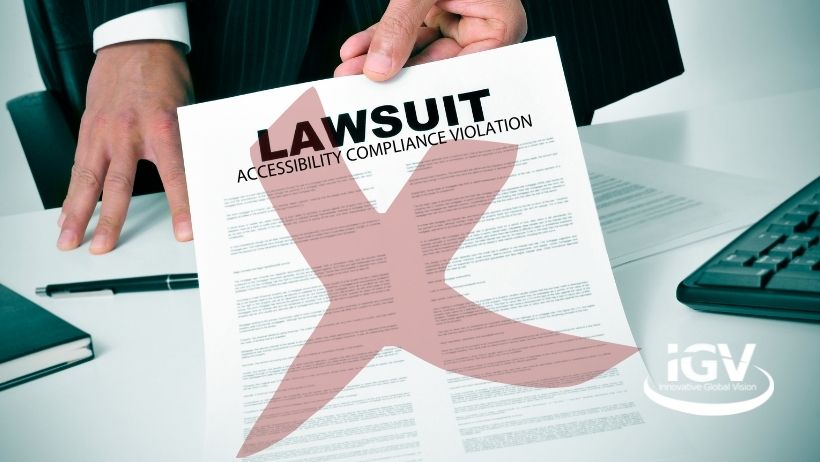 Yes, unequivocally yes. Every company must be concerned about website accessibility lawsuits. No matter the size of your company, if you have a digital presence you are required by law to comply with basic website accessibility standards. In fact, American businesses received 265,000 website accessibility demand letters in 2021 for violations of accessibility standards. In many cases, if the problems are not solved, it can lead to costly lawsuits. In 2021 alone, there was a 64% increase in ADA compliance letter searches in 2020.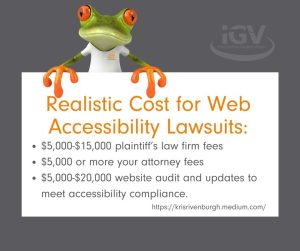 "If you receive a website (or app) accessibility demand letter under the Americans with Disabilities Act (ADA) $25,000 is a conservative final tab after you're done at the buffet of plaintiff's law firm."

–Kris Rivenburgh
Today, no matter where you do business, your digital footprint needs to be accessible for everyone. Unfortunately, many companies are misled by cheap or free plugins for their website that allows for changes in contrast or font size. While these tools seem like a great idea, they do not address the underlying issues that make websites compliant.
Recently accessiBe has come under fire from the National Federation of the Blind (NFB). AccessiBe is one of the largest providers of an "accessible" solution for websites. As the most powerful civil rights and advocacy group for the visually impaired, they believe that:
"This week, the Board of Directors reviewed accessiBe's business practices at the urging of members who have researched and interacted with the company, and the Board believes that accessiBe currently engages in behavior that is harmful to the advancement of blind people in society."

–NFB
The technology that is often trying to make websites more accessible is often making things worse for those with visual impairments. Companies like accessible us AI to build "web overlays" that manipulate pieces of code to run over the website automatically to reformat how the website browsers display pages for people assisted by screen readers.
The problem? It does not address fundamental problems within the code of the website like Alt Tags. Alt tags are descriptive text that follows images that are housed in the digital space. Without alt tags, for instance, a user might not be able to understand why the image is on a website. Think about this, if a picture has an alt tag that says "picture 1" that does not help someone who cannot see the image decipher what is contained in the image. You can see how "Picture 1" is an epic fail for accessibility.
Where do These AI tools fall Short of Accessibility?
NO matter what AI tool companies are using to overlay accessibility for their websites there seem to be some common problems for people using screen readers. For instance. Screen reader tools can make website tables incomprehensible. There is also a common issue with the ability to notify a screen reader about a drop-down menu. Image recognition algorithms that try to write alternative text for photos consistently deliver misleading or irrelevant descriptions. Most of these technologies also only work with HTML-formatted pages. They do not help with PDF documents and other digital formats.
As good a AI is, there is no replacement for user experience. It is important to not depend on a tool to comply with accessibility guidelines. You must address the issues at the code level of your website, and have the site audited by human users to check to make sure that the site does in fact operate with as much of a smooth transition for all humans to access the information.
What happens if your company is not ADA compliant?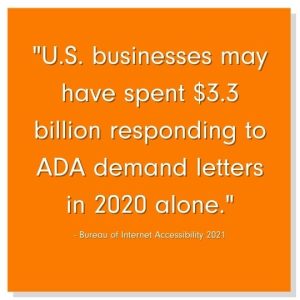 In the United States, those with disabilities expect businesses to take steps to comply with the ADA guidelines. When a business does not comply typically a compliance letter is sent first. Then a company may face legal consequences if the violations are addressed. However, just getting a letter requires that a business contact their attorney, meet with their digital marketing and website development company, and adjust. This still costs a business considerable time and resources to address the issues and correct the problems.
Under ADA allows individuals with disabilities to file lawsuits in Federal court and obtain Federal court orders to stop ADA violations in the United States.
In California, the state regulations have taken it a step further under the Unruh Civil Rights Act. Combined with the California Disabled Persons Act (Civil Code Sections 54 – 55.32 the State legislation allows individuals to claim treble damages with a minimum of $4000 per access violation plus legal fees.
Canadian Accessibility Laws follow Web Content Accessibility Guidelines (WCAG)
In Canada, the Ontarians with Disabilities Act (AODA) requires the websites of private businesses and nonprofit organizations with 50+ employees, and part of the public, to be accessible. They recognize Web Content Accessibility Guidelines (WCAG) as the international standard for digital accessibility.
The AODA compliance deadlines have already passed. If you have more than one person working in Ontario, Canada, your website had to be WCAG compliant as of January 1, 2021.
You should not wait to get an accessibility letter, or a lawsuit to work towards website compliance.
As business owners, the last thing we want is to alienate an entire segment of our clientele. We should all aim to be as inclusive as we can be. Innovative Global Vision believes strongly that accessibility is a must for every website. That is why we now offer these services to our clients. It does not stop there; we are committed to continuous improvement as technology continues to evolve. Accessibility is an ongoing project for all websites. In some cases that involves updating a current website, in other cases, it may take more time to try and retro a website, rather than start from scratch with WCAG guidelines in mind.
Contact IGV today to learn how to get started on accessibility before you get one of the dreaded letters.
Additional Reading: