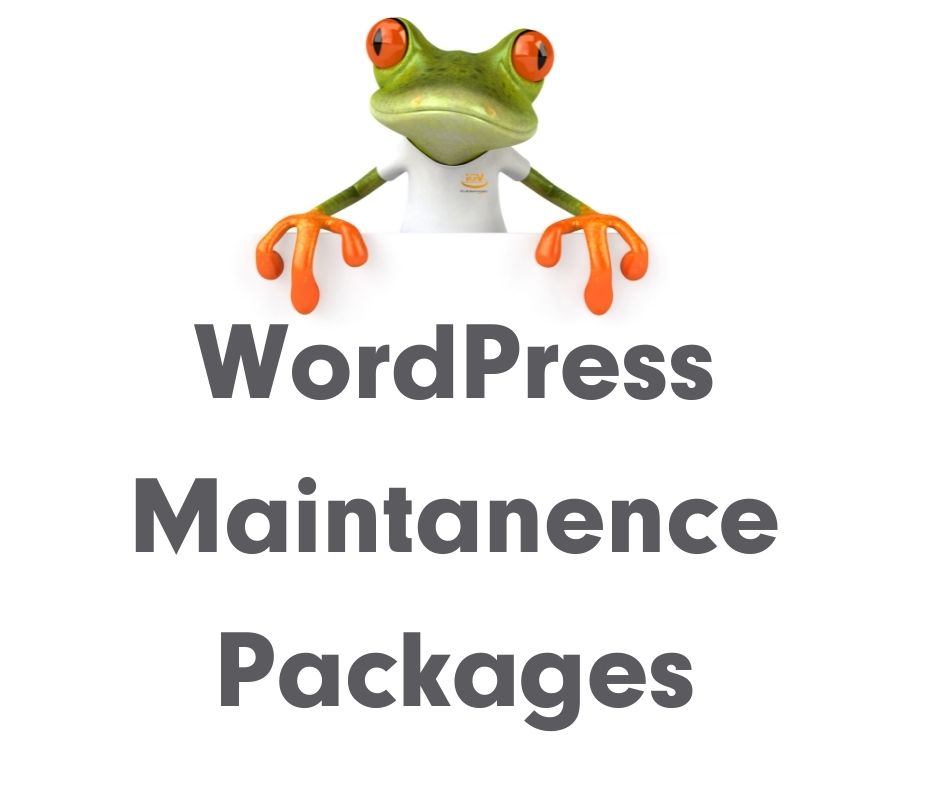 IGV is a different from most Website Development and Digital Marketing Companies. We are committed to keeping your website optimized. That includes keeping your website protected from hackers by running on the latest security software. We optimize your website to reduce website downtime and errors. At IGV we help you avoid unexpected expenses that come from repairing a website that is hacked, or a plugin that is phased out post development.
We know that all sounds good, but most people, even our current customers, don't know how we achieve those results.
How is My WordPress Website Maintained by IGV?
At IGV we have developed a manual process that are internal team provides to our customers daily. We physically login to the backend of all our WordPress Maintenance customers and check for plugin updates, security alerts, and changes made by WordPress to ensure that your website is functioning at an optimal level.
When we say 24/7 support, we mean it. Your website is our priority. Protecting our clients' digital assets is a privilege we do not take lightly.
If there is a plugin update, we test it for compatibility to your website. If we discover there is a problem, we find solutions and discuss the next steps without interruptions to your site. Depending on the WordPress Maintenance package you have selected those next steps may be covered.
However, our Basic package members may find that certain features are not covered by their maintenance package. In those cases, clients may choose to upgrade their WordPress Maintenance, or they may choose to purchase Service Credits to cover the cost to make additional necessary changes to their website.
Our clients should always be in the driver's seat. We understand that you choose your package level based on many factors for your business. Our goal is to be as transparent as possible with everyone and allow you to make the right decision for you.
What is included in my WordPress Maintenance Package?
The difference in many cases with what is covered and what is NOT covered under each plan has to do with the development time for implementing changes in different areas. Those paying more for our Gold and Platinum plan are covered with time allotted for development projects on the back end should the need arise.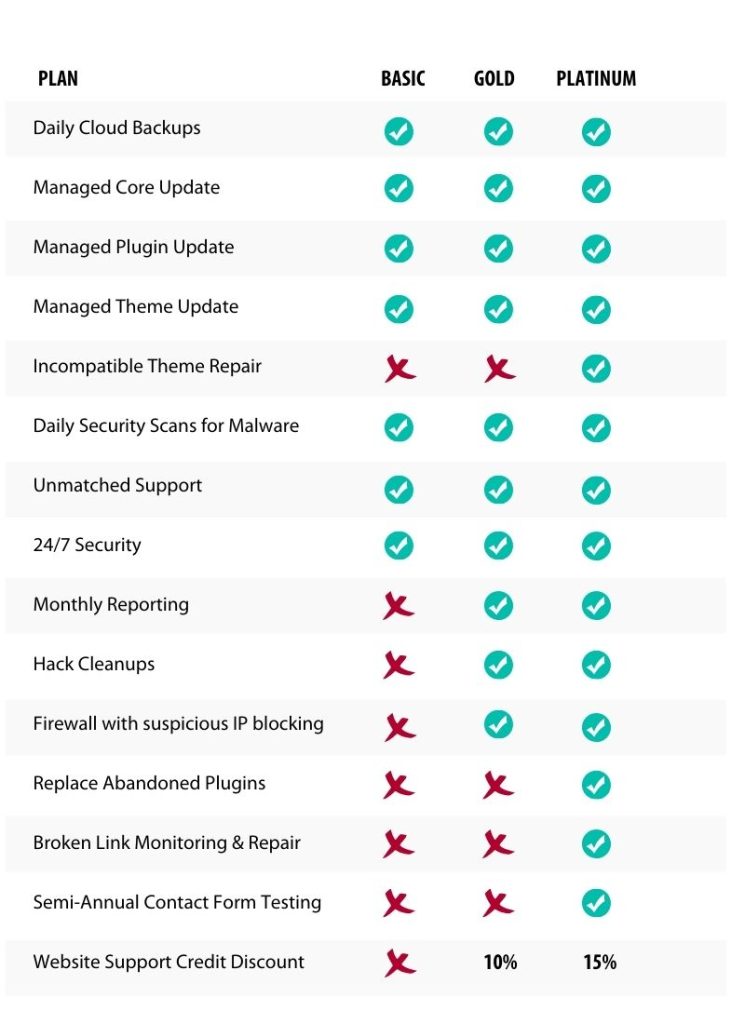 Service credits will be offered at a discount for those on Gold and Platinum plans because they are already paying for a higher level of support through IGV. We are happy to answer any questions regarding different service packages.
What Has Changed with the Addition of Service Credits?

At IGV, we realized that there is a gaping hole in our ability to best serve our clients. Text changes and other minor fixes that take less than 15 minutes are covered in all our maintenance packages. We averaged the time our tickets took in the last few years and most changes fell within that 15-minute timeline.
While Maintenance Packages cover the backend of website development including updating plugins and making basic changes to your current website. There was no plan in place to help you make larger updates to your website over time. We needed a solution for our clients.
Service Credits allow us to provide our customers with blocks of time dedicated to making changes to your website. For instance, you may need to add a new page to your website, or maybe you want to include a chatbot to help with customer service issues after hours. Service credits give you the flexibility to change what doesn't work for you.
Customers on our Gold and Platinum WordPress Maintenance packages will get a discount on Service Credits.
Read More about Service Credits HERE
Recently, you noticed some suspicious signs on your website. Content that is not yours or strange ads are displayed. The overall website performance and speed may have suddenly slowed down. Or even worst, your site is redirecting to another unknown website. Finally, Google may have displayed a warning message that your site contains malware. Your website was hacked!
Before going into a panic, it is essential to consult your web developer or whoever is handling your website's backend. What crucial steps do you need to take? How can you maintain your website safety moving forward? To answer these questions and ease your worry, let's consider the steps that our web development and security team take when a website has been hacked.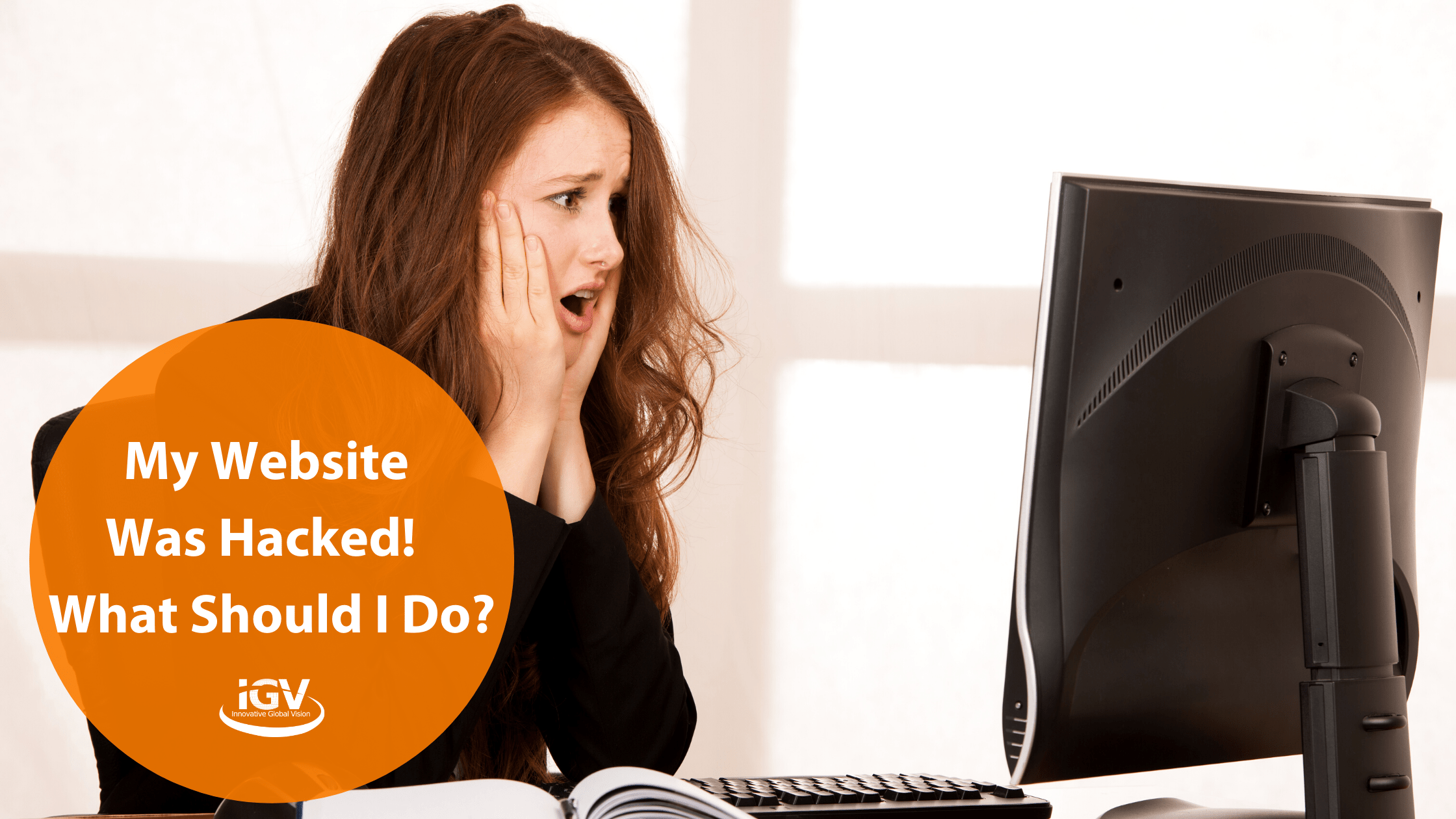 Step 1 – Identify the Attack
Now, it is time to find the source of the attack so that we can amend it. Your website is scanned, and files are analyzed to determine what is hacked or what is causing problems. We are looking for suspicious activity, unfamiliar login users, or corrupted plugins, themes, or other files.
Step 2 – Cleaning the Hacked Website
Now that we understand where the malware is located, it can be removed. These can be "bad" files that are replaced with fresh copies. We also work to remove hidden backdoors, which are functions hackers use to get back into your website. Many hackers always leave a way to get back into a compromised website.
Next, we must remove all outdated content such as plugins or themes to avoid leaving your website in the same vulnerable state it was in when hacked. With the cleaning complete, the site is tested to ensure it is restored to its original functionality.
Step 3 – Secure the Site
Once the website is clean, we secure the site by changing all passwords to ones that are hard to guess. We discourage the customer from saving new passwords to their browser. We ensure that all users on the website are legitimate and have strong passwords.
Step 4 – Maintain Website Safety & Preventive Measures
How can you maintain your website safety moving forward? For all those outdated plugins or themes, we find new solutions to prevent future vulnerabilities. RECAPTCHA is placed on all contact forms as added security measure for form submissions.
It is recommended to invest in security management. All our hosting customers enjoy peace of mind with affordable WordPress security management plans. With IGV's WordPress Maintenance and Security, plugins and themes are updated regularly, uptime website monitoring is performed, the website is backed up daily, and many other extensive security measures are put in place.
We understand your running your business needs to be a top priority. Worrying about website security and breaches can consume too much time and headache for business owners. By partnering with us, you will enjoy peace of mind knowing that your site is protected and working correctly at all times.
Learn more about our website maintenance and security services and hack preventive solutions by visiting https://www.igvinc.com/wordpress-maintenance-website-security-ohio/

Websites are essential to almost every businesses success in the technology filled world that we live in. Websites are the main marketing tool for businesses as they never turn off and are always accessible. This is why website maintenance is crucial to a business's success. Whether you do your own website maintenance or you outsource the work to someone else, everyone can agree how important this step is in order to keep a website running efficiently. Need a little more convincing? Here are 6 benefits that are associated with using WordPress website maintenance.
Website maintenance can reduce error on your site and any downtime that may occur from needing to fix any problems your website may run into.
If you choose to outsource your maintenance you will save time and allow yourself to focus on your business.
Your site will be protected because the security patches and plug-ins will be up-to-date
SEO will be maintained which will allow you to grow and reach new customers
Your brand image will improve by having a consistent and working site that really reflects who your company is
Any possible website operational problems will be solved. This will lead to fewer customers encountering problems and choosing to leave your site.
Make sure to invest in website maintenance it will save your company time and money in the long run and keep your customers happy. Want to learn more about WordPress maintenance? Contact us at IGV for more information 330-425-0922, sales@igvinc.com.